Everyone??favorite Korean spicy noodle brand is back with a bang.  
And this time, Samyang is back with a product that features another one of the nation??most iconic dishes, the rice cake. 
This brand new product is made with the same sauces that are used to set 
your mouth on fire and with rice cakes made from the rice from local Korean farmers. 
What a beautiful crossover.
The new instant rice cake cups come in packaging very similar to the instant ramen packets we all know and love so don??get confused.
To enjoy this meal of the century, just combine the rice cake with water and sauce before microwaving it for 2.5 minutes.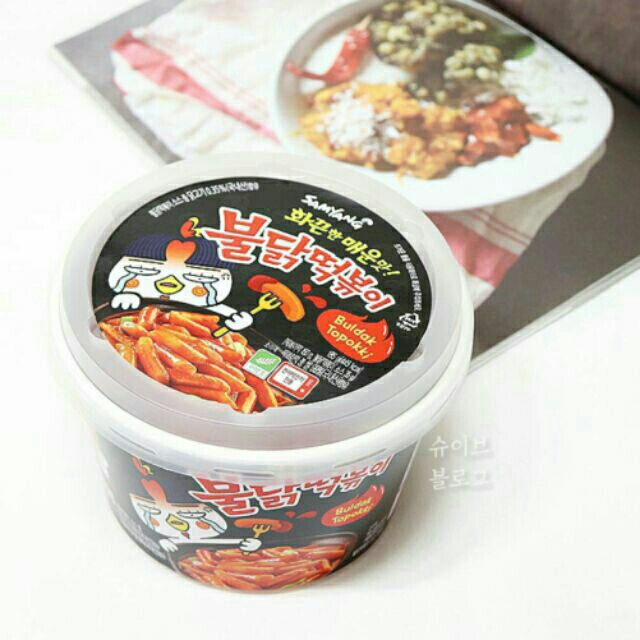 Ingredients: Rice cake (83.8%): rice, refined salt, acidity regulator [citric acid (E330)], ethyl alcohol. Sauce (8.9%): water, artificial chicken flavor, soy sauce, white sugar, chili pepper powder, red pepper powder, soybean oil, onion, red pepper seed oil, flavor enhancer [monosodium L-glutamate (E621)], garlic, modified potato starch, decolorized chili extract, paprika extract, black pepper powder, curry powder. Powder (7.3%): whole milk powder, non-dairy creamer, mozzarella cheese powder, garlic powder, butter powder, modified potato starch, white sugar, artificial chicken flavor powder, soybean oil, decolorized chili extract, black pepper powder, parsley curly, basil powder. Contains soy and milk.